First order of business when I got engaged was to pick out my wedding dress. I'll be honest all summer I religiously watched
Say Yes to the Dress
in hopes that I would soon be able to pick my dress out. I was going to be ready. Well, needless to say two days after we got engaged I made an appointment at
Brides by Lori
to try on wedding gowns. I already knew what I wanted in a dress, I just had to find the dress.
My mom and I were the only ones that went on my first trip to the Bridal salon. Of course, we were 45 minutes late and I was not in a good mood. Trying on wedding dresses though is the most fun you will ever have. It is the ultimate shopping trip. I tried on a bunch of dresses and came out with three favorites. Three very different dresses. There was no way I was going to buy a dress that day
So two weeks later I went back with my mom, my grandmother, and Kaitlin to get a wedding dress. Well when I went back my older brother, Brendan, had heard from my dad that there was a webcam. He decided to watch too all the way from VA. I was pretty sure I was going to buy one of the dresses that I had tried on already but Kait and I went around to double check. We picked out a couple, including one that reminded us of a T.Swift music video. Well, I ruled out all the ones that we picked out pretty quickly but I found things about those dresses that I liked and wanted in my dress. Then it became crunch time. Meanwhile, while I am panicking about my decision, my grandmother (in her joutfit) is walking around the store showing the employees her dresses for the wedding. Mind you, one of them was the dress she wore to my mother's wedding. At the same time Brendan was telling my mom to tell a girl trying on dresses to get some style. Needless to say trying on dresses was extremely distracting and my family had managed to monopolize the entire store.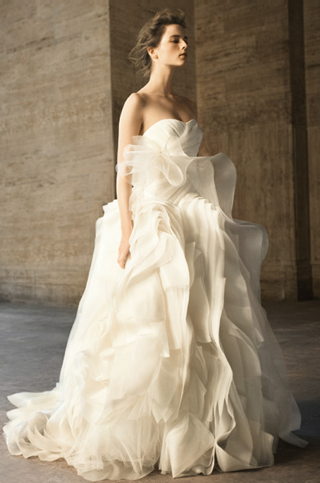 I think this dress is SO cool.
My mom says it reminds her of cabbage
Vera Wang
Well I narrowed the dresses down from three to two. One of the dresses was somewhat trendy and I couldn't see myself being very happy with it ten years from now. So down to two and I could not decide between them. Well the lady told me there was a new dress that came into the store and that I needed to try on. Well that decision was easy, I added that one into the running and knocked another one out.
one of the coolest Vera Wang dresses of all time!
Down to two. I must have spent a good hour looking at myself in the mirror. They were such different dresses. I tried on one of the dresses again (the one I really wanted, but was afraid my mom didn't like it) and I walked out and my mom burst into tears. And that was that I found my dress. I'm obsessed and love it so much and can't wait to wear it. The pictures are on a disc at home so no one can stumble upon them.
larazo. Love Sparkles
Dress tidbits
YOU NEED TO BUY IT EARLY. It takes 6-8 months to complete a wedding dress with alterations, so basically you are in trouble if you wait til the last minute.
Go dress shopping on a Sunday, they usually don't have that many appointments. It is less crowded so you don't feel rushed and you get plenty of attention
Veils are expensive. Very expensive for a piece of tulle. Omg it drives me nuts.
I think this dress is stunning
Amasle
Most of you know by now that I will not show anyone my wedding dress before the wedding. I did this for a couple reasons.
1) I couldn't show some people and not others
2) If I showed some people I know everyone else would hear about it
3) I want Craig and my Daddy to be totally and utterly surprised.
Like honestly, how could I tell some of my friends about my dress but not others. I don't love anyone less than anyone else. Plus, y'all have big mouths! I originally was going to show my dad the dress I picked. I always model my clothes for him when I get home for dresses and he always made a big deal out of my homecoming and prom dresses. The lady at the store said that her daughter didn't show her dad her wedding dress and his reaction was amazing on her wedding day. Finally, I would KILL someone if Craig found out what it looked like. I want him to be really surprised on our wedding day, so people teasing him about it or dropping hints would have ruined my fun.
so so pretty
Rivini